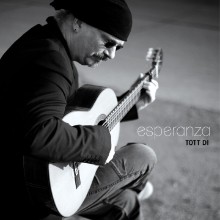 artist: Tott Di
album: Esperanza auf ZeitART Records (LC-24984)
artist website:
www.Tottdi.com
www.flamencogitarreonline.de
www.facebook.com/tottdi

Foto: Seelenblick, Claudia Wycisk www.cwphoto.de
Hörproben:
Official Video:
ESPERANZA
»Esperanza«, wie der Name schon sagt, erzählt von Hoffnung, aber auch von Heilung.
Heilung von den Widrigkeiten, den großen Krisen des Lebens und dass wir sie überwinden können.
»Esperanza« ist die Musik eines Künstlers, der die dunkle Seite des Lebens kennt, aber der hellen Seite des Lebens zugewandt ist.
In jedem Song schwingt eine gewisse Melancholie mit, die jeder, der das Leben kennt, versteht.
Tott Di ist ein Gitarrist aus Berlin.
Tott Di, das ist sein Spitzname so lange er denken kann.
Die Gitarre ist schon seit seiner Kindheit die große Leidenschaft seines Lebens. Diese Leidenschaft und sein großes Talent machten ihn zu einem vielseitigen Ausnahmegitarristen.
Mit »Esperanza« jedoch stellt er unter Beweis, dass er nicht nur ein virtuoser Gitarrist ist, sondern ein begnadeter Komponist, ein Geschichtenerzähler.
Wie Traubenzucker gehen seine Kompositionen ins Blut und ziehen den Zuhörer in seinen Bann.
»Esperanza« ist ein konzeptionelles Album, in dem verschiedene Musikrichtungen zu einem einzigartigen Mix stilsicher verwoben wurden.
Flamenco, klassische, lateinamerikanische sowie Jazzelemente sind die Zutaten dieses Albums und wer instrumentale Musik auf einer Flamencogitarre gespielt mag, wird von diesem Album begeistert sein.
»Esperanza« - das sind 10 wunderschöne Kompositionen mit
Tiefe und Originalität, deren Klangwelten den Zuhörer verzaubern und ihn auf inspirierende Reisen schicken, entrückt vom Stress des Alltags.
Den Hörer erwartet bei diesem Album nicht nur ein fantastisches, sondern auch ein abwechslungsreiches Klangerlebnis.
MUSIKER VON »ESPERANZA«
Tott Di – Gitarre, Keyboard
Ingo Rose - Perkussion
Samy Dale - Tablas und Cajon,
Trilyan - E und Akustikbass, Chapman Stick,
Tobi - Klavier, Keyboard
All Songs composed arranged and produced by Tott Di
Co-executive producer: Norbert Menzel
Mastering: Stefan Noltemeyer
Label: ZeitART Records by Stephan Prinz

__________________________________________________________________
Esperanza by Tott Di
"Esperanza", like the name already says, tells about hope, but also of recovery. Recovery from the adversities, the big difficulties of life and that we can manage them. "Esperanza" is the music of an artist who knows also the dark side of life, but who is turned toward the bright and clear one. Every song is accompanied by a certain melancholy that everyone who knows life can understand.
Tott Di is a guitarist from Berlin.
Tott Di is his nickname since he started thinking.
Since childhood the guitar is the great passion of his life. His passion and big talent turned him into a versatile, exceptional guitarist. However with "Esperanza" he proves that he is not only a virtuoso guitarist, but also a gifted composer, a storyteller.
Like glucose his compositions gets into one's blood and casts a spell on every listener. "Esperanza" is a conceptional album, which masterly unites different types of music into an unique mix.
Flamenco, Latin American, classical and jazz elements are the ingredients of this album and anybody, who likes instrumental music played on a flamenco guitar will be taken by this album.
"Esperanza" includes 10 wonderful compositions full of profundity and originality, whose diversity of sounds will enchant the listener and will send him or her on an inspiring journey far away from daily stress.
The listener doesn't expect only an incredible album, but also a diversified experience of sound.
Musicians of "ESPERANZA"
Tott Di – Guitar, Keyboard
Ingo Rose - Percussion
Samy Dale - Tablas and Cajon
Trilyan - E and Acoustic Bass, Chapman Stick
Tobi - Piano, Keyboard

All songs composed arranged and produced by Tott Di
Co-executive producer: Norbert Menzel
Mastering: Stefan Noltemeyer
Label: ZeitART Records by Stephan Prinz
Bodenheim, 29.02.2012: Vertragsabschluß für das Album Esperanza